TECHNOLOGY
Manufacturing Operations Management (MOM/ MES)
Visualise losses and effectively measure and improve business performance with SYSPRO's Manufacturing Operations Management solution which supports the measuring and calculation of overall equipment effectiveness (OEE), total effective equipment performance (TEEP) and overall labour effectiveness (OLE). Data is analyzed in real-time to provide availability, performance and quality metrics for each employee and machine.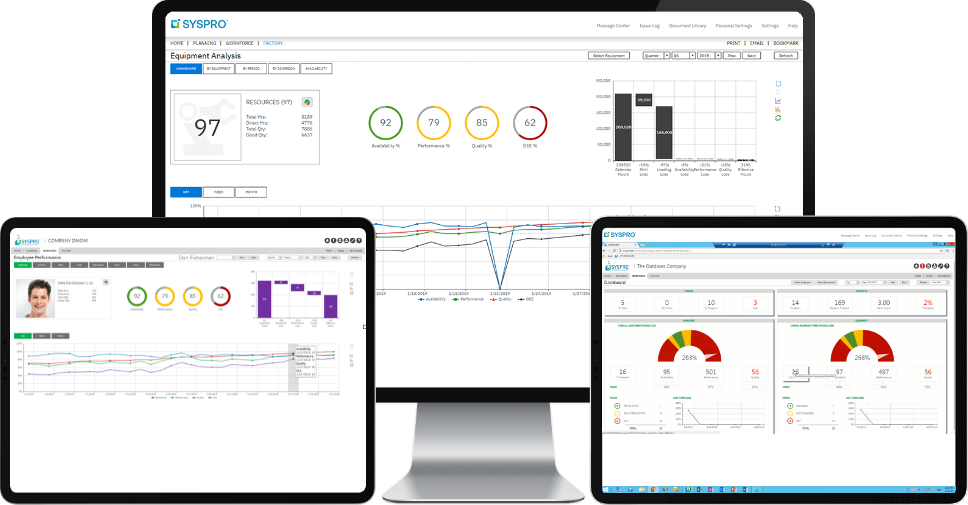 Gain a 360˚ view of your production
Improve
Drive continuous improvement with Six Big Loss analytics, online documents and more
Analyse
Access out of the box analytics for OLE, OEE and TEEP
Schedule
Quickly and accurately schedule to maximise order fulfilment and resource utilisation
Track
Gain real time visibility of employees, equipment and jobs
Publish
Publish schedules and job lists with the shop floor and other departments easily
Collect
Collect data from the shop floor from humans and machines
TATA's "shop floor to top floor" digital enablement resulted in a 30% efficiency gain in product planning and a reduction in subassembly WIP time from 3 days to 4 hours.
(SOURCE: MCKINSEY & CO – ADVANCED INDUSTRIES, JULY 2019)